OTfuse is an automatically configured intelligent industrial security appliance and intrusion prevention system (IPS) designed to be used by equipment operators and automation engineers. OTfuse sits at the cabinet level in front of critical endpoints and learns and enforces normal operations for your plant environment and actively eliminates threats to OT assets in real time. It protects the OT network from unauthorized config changes, device resets, device reads, logic updates and message values.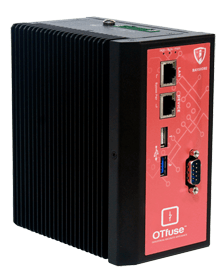 OTfuse is the Ultimate Protection for PLCs
OTfuse offers turnkey protection for PLC's and SCADA/DCS devices with Full Payload Inspection Down to the Command Level

Native support for modbus, Ethernet/IP, S7, DNP3, BACnet, SLMP, FINS, EGD

Built in Modbus server allows display device protection status directly to HMI

syslog and email alerting
Hardware authentication for setup/admin
Standard DIN rail enclosure, 24VDC power

Layer two transparent bridge with self-learning, easy to retrofit into existing installations, easily set up in <1 hour
OTfuse sits in front (inline) of critical endpoints, protecting PLCs and SCADA/DCS devices from unauthorized use, dangerous instructions and activities, and remote takeover from hostile sources.